DEF CON 27 Scavenger Hunt
Finally, the time of Blade Runner was upon us in 2019 so we used it as our theme. The exceptional tagline and art this year was thanks to our very own judge Zhora, who obviously took her name from the iconic film.
Description
It is the distant dystopian future, the year 2019; Las Vegas, Nevada. You have been tasked with collecting as much as possible from our list; including a Nexus 6, a synthetic owl, and a Sean Young blow-up doll. Let nothing stand in your way. Be it replicant, retire them; be it goon, beer them. Your time is limited, go now, you have only from 10AM Friday until noon on Sunday. Find us in the contest area to administer your submissions; be advised trigger warnings are in full effect.
Pre-con list
We did a pre-list and even managed to include a typo about when the contest started.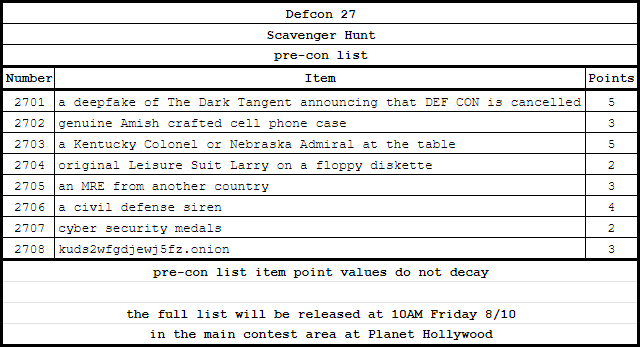 List
We printed the list on greenbar once again but our printer's ink was a bit dry which gave the competitors an extra challenge. You can see the text file here.
Final Scores
The winning team members were Mr. Rogers, Vic, and Noah.